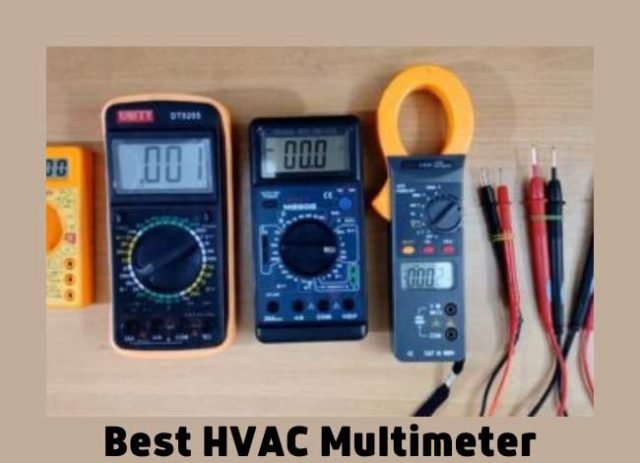 Are you an HVAC technician or a hobbyist electrician? You know how vital it is to have a quality digital multimeter. It doesn't matter whether you're a pro or just a beginner in the HVAC field, but having a reliable and quality HVAC multimeter is really important if you want to determine the frequency, resistance, voltage, and temperature, etc., while at work. So, how to find the best HVAC Multimeter 2020?
Related: Budget Clamp meter Fluke 323 review
We understand that there are lots of multimeters on the market, and selecting the best is not easy. Some multimeter has an accuracy problem. As an HVAC technician, this type of inaccurate result will impact their work. For this reason, we have created this hvac multimeter review to help HVAC specialists to find a multimeter that meets their different needs.
Top 10 Best HVAC Multimeter Comparison Table
Images
HVAC Multimeters
Special Features
Warranty
Price Ideas

Experience Professional Choice

Check Price

Fluke 116/323 KIT HVAC Multimeter and Clamp Meter Combo Kit
Read Review
Built-in thermometer, Microamps to test flame sensors, Low input impedance to avoid false readings, Analog bargraph, True-rms, CAT IV 300 V/CAT III 600 V safety rating
3 years
High

Clamp Professional Choice

Check Price
Fieldpiece SC260 Compact Clamp Multimeter with True RMS
Read Review
True RMS measurements, Low battery indicator, Temperature
1 year
Medium

Budget Choice

Check Price
Amprobe AM-560 Advanced HVAC Digital Multimeter
Read Review
Audible continuity, Non-contact voltage detection, Dual thermocouple, Low pass filter
1 year
Low

Cheap Choice

Check Price
UEi Test Instruments DL369 Digital Clamp-On Meter
Read Review
Dual Display, Test lead storage, Non-Contact Voltage, Diode Test, Auto Off
3 years
Lowest

Beginner Choice

Check Price
Fieldpiece HS33 Expandable Manual Ranging Stick Multimeter for HVAC/R
Read Review
High Voltage & Continuity Indicators, Non-contact Voltage, magnetic hanger
1 year
Medium

Advanced Professional Choice

Check Price
Fluke 3000 FC HVAC Wireless HVAC System
Read Review
Wireless Multimeter, MIN/MAX recording, True-RMS CAT II 1000v / CAT IV 600V, three-phase load, diode test
3 years
High
Check Price
Digital Clamp Meter, Tacklife CM02A 600 Amp TRMS 6000 Counts NCV with AC Current AC/DC Voltage Test Temperature Measure Auto-Ranging Multimeter
Read Review
NCV detector & live line test, True rms 6000 counts measuring, Overload protection, Backlight
2 years
Low
Check Price
TRIPLETT 1101 Compact dmm with Backlit Display
Read Review
Over mold insulated, Auto polarity, Low battery indicator, Double insulated, Transistor Check
3 years
Lowest
Check Price
Fieldpiece HS26 Original Stick Digital Multimeter (HVAC/R)
Read Review
Modular Expandability, MAX and Data HOLD, High Voltage & Continuity Indicators, auto power-off
1 year
Medium
Most of the HVAC digital meters come with a temperature gauge feature. This prevents HVAC technicians from carrying additional tools for measuring temperature as they can get it in one tool, which is the HVAC multimeter.
multimeters for automotive
, home, electronics, and HVAC. Depending on where your major, you can choose a meter that meets your needs. If you happen to fall into one of these categories like HVAC, then you have to select an hvac multimeter that is specialized for this type of works.
Best HVAC Multimeter Reviews 2021
Beginners in electronics repair and other electrical problems can have a hard time selecting a multimeter of their choice. Due to this, we decided to come up with the 10 best HVAC multimeters on the market at the moment.
Fluke 116/323 kit hvac Multimeter(Our Top Pick)
Made from one of the most reliable brands on the market, the Fluke 116/323 hvac meter is a durable and accurate meter. The multimeter and clamp meter combo kit measure 400 A ac current, 600 v ac, and dc voltage.
Technical Features Of The Fluke 116/323 kit HVAC Multimeter
Features

Fluke 116/323 kit

Display:
6,000 counts, updates 4 per second
Storage temperature:
-40 °C to + 60 °C
Battery life:
400 hours typical, without backlight
Diode test:
Range/Resolution:2.000 V / 0.001 V
Accuracy:0.9% + 2
DC volts:
Range/Resolution: 6.000 V / 0.001 V
Range/Resolution: 60.00 V / 0.01 V
Range/Resolution: 600.00 V / 0.1 V
Accuracy: ± ([% of reading] + [counts]): 0.5% + 2
AC volts:
Range/Resolution: 6.000 V / 0.001 V
Range/Resolution: 60.00 V / 0.01 V
Range/Resolution: 600.0 V / 0.1 V
Accuracy: 1.0 % + 3 (dc, 45 Hz to 500 Hz)
2.0 % + 3 (500 Hz to 1 kHz)
Temperature
Range/Resolution: -40 °C to 400 °C / 0.1 °C
Accuracy: 1% + 100
Range/Resolution: -40 °F to 752 °F / 0.2 °F
Accuracy: 1% + 324
Price:
Check Price
It is lightweight and very easy to carry. The rugged design offers resistance to a harsh environments and the display is for showing outcomes of different tests such as temperature.
Why buy this Fluke 116/323 hvac multimeter?
It has a rugged design for longevity
C115 deluxe soft carrying case with shoulder strap makes maneuvering with the tool to be simple
It has visible and easy to use features
400 A ac current measurement, 600 v ac, and dc voltage measurement is just exceptional
Large display screen easily shows the results for the user to view
Fieldpiece SC260 Clamp Multimeter with True RMS
Fieldpiece is one of the most dedicated and reliable brands in the multimeter industry. They produce affordable but accurate devices that technicians have come to love.
The Fieldpiece SC260 clamp multimeter features the True RMS that enables the user to test variable frequency and temperature in both Celsius and Fahrenheit very accurately. Additionally, it has a backlit display that makes the reading of measurements in poorly lit areas to be easy and quick. Apart from that, it has a swivel magnet that allows you to attach it and work hands-free.

Check Price
No more time will be wasted after the new autoselect mode feature was incorporated into this device. All you have to do is to dial, connect your test leads, and leave the DMM to automatically choose the right measurement. When you're running out of power, the low battery indicator will alert you.
Benefits
It comes with a low battery indicator
The DMM is compactly designed for easy use and carry
It has a backlit display for showing different readings even in the dark
The auto-select mode helps you save time as you use the device
You can measure temperature in both Celsius and Fahrenheit
Setbacks
Not many customers like that the
Amprobe AM-560 HVAC Digital Multimeter
Amprobe is another top brand with reliable multimeters. The Amprobe AM-560 HVAC digital multimeter comes with a dual thermocouple for taking readings on a low or high side of HVAC systems. The AM-560 multimeter is sturdily built and with a high accuracy level, just like other top Amprobe multimeters. However, this one is slightly cheaper and a great fit for beginners or DIY enthusiasts.
When you purchase this gadget, you will be able to test resistance, frequency, capacitance, micro-amps, and continuity. Also, it is compliant with the latest CE and IEC safety regulations. Other things included in the purchase include temperature adaptor, test leads, carrying case, 9V battery, user's manual, and two type K probe.

Check Price
Benefits
It measures temperature in both Celsius and Fahrenheit
It carries out various measurements such as current, voltage, frequency, capacitance, resistance, and duty cycle.
Amprobe AM-560 is very easy to read values or results on the large display
The multimeter meets the latest CE and ICE safety standards
It has the capability to read amperage and milliamps together with the micro-amps.
Setbacks
Some of the users don't like the continuity checker and the RMS value
UEi Test instruments DL369 clamp on meter
One of the best selling HVAC multimeter in the clamp category. This is one of the best hvac multimeter for the money.
Technical Features Of The UEi Test instruments DL369 clamp multimeter
Features

DL369

Display:
3¾ digit, 4000 count
Storage temperature:
(DL379B & DL389)C
DC volts:
Range: 400mV / 4V / 40V / 400V /1000V
Resolution: 0.1mV / 1mV / 10mV / 100mV / 1V
Accuracy: ±(0.5% + 4 dgts) / ±(0.8% + 10 dgts)
AC Volts (45Hz to 400Hz):
Range: 400mV / 4V / 40V / 400V / 750V
Resolution: 0.1mV / 1mV / 10mV / 100mV / 1V
Accuracy: ±(2.0% +5 dgts)
Temperature:
Range: -22˚ ~ 14˚F / 15˚ ~ 752˚F / (-30˚ ~ -10˚C) / (-9˚ ~ 400˚C)
Resolution: 0.1˚F / (0.1˚C)
Accuracy: ±(1.0% +5.4˚F) / ±(1.0% + 3.6˚F) / (1.0% +3.0˚C) / (±1.0% + 2.0˚C)
Price:
Check Price
It is compactly built and can operate without contact. Other outstanding features that it offers include: data hold, auto shut off, dual display, test lead storage, and duty cycle, among others. Besides having exceptional features, this meter is also reliable and accurate.
Why buy this DL369 clamp hvac multimeter?
Has a storage pouch and carrying handle
It is compactly created to withstand hard conditions
It is safe for use
The manufacturer offers a three year limited warranty
Fieldpiece HS33 multimeter for HVAC
The Fieldpiece HS33 meter is a quality tool with top features that make testing of temperature, frequency, and resistance to be quick and easy.
Technical Features Of The Fieldpiece HS33 HVAC Multimeter
Features

HS33

Display:
3½ digit liquid crystal display (LCD) with a
maximum reading of 1999.
Storage temperature:
-4 to 140°F(-20 to 60°C), 0
to 80% R.H. with the battery removed.
Battery life:
300 hours typical with alkaline.
Diode test:
Test current:∼1.0mA
Accuracy:±(1.5% rdg + 3 dgts)
Open circuit volts:3.0VDC typical
Overload protection:500VDC or AC rms
DC volts:
Ranges: 200mV, 2000mV, 20V(HS32), 200V
Resolution: 0.1mV
Accuracy: ±(0.5% rdg + 1 dgt)
Input impedance: 560kΩ on V inputs, 10MΩ on mV input
Overload protection: 600VDC or AC rms, 500VDC/350VAC rms 15 sec on 200mV range
Transient protection: 6kV for 10μ sec
AC volts (50Hz – 500Hz):
Ranges: 200mV, 200V, 600V
Resolution: 0.1mV
Accuracy: ±(1.2% rdg + 3 dgts)
±(2.0% rdg + 5dgts) on 600V range
Input impedance: 560kΩ on V input, 10MΩ on mV input
Overload protection: 600V DC or AC rms
Transient protection: 6kV for 10μ sec
Temperature (HS33)
Range: -30 to 200°F (-34 to 93°C)
Resolution: 0.1°F/°C
Accuracy: ±1°F, 32 to 120°F (0 to 48°C),
±1% + 1.5°F, -4 to 200°F (-20 to 93°C),
±2% + 3°F, -30 to -4°F (-34 to -20°C).
Sensor type: K-type thermocouple
Overload protection: 60 VDC or 30 VAC rms
Price:
Check Price
It is made up of various features such as data hold, high voltage, and continuity indicator, and built-in non-contact voltage that makes this meter to be simply amazing. That's why it is a favorite among HVAC specialists. If you are looking for the best temperature meter for hvac, then buy this.
Why use this hvac HS33 multimeter?
It is ergonomically designed to fit excellently in the hands of a user for simple use
Fieldpiece HS33 has features like the magnetic hanger and detachable test leads that allow the user to operate the device hands-free.
It can withstand tough situations with its rugged rubberized bumpers
It comes with an easy to read display
Fluke 3000 FC HVAC System
Fluke is among the best multimeter brands on the market. The brand has got a great reputation for creating high-quality and reliable multimeters for both pros as well as starters. But Fluke 3000 FC one of the best HVAC multimeter for professionals.
The Fluke 3000 is one of the best wireless HVAC digital multimeters. This combo is created to help you work on electric panels quickly and safely. All you need to do is to connect the included remote modules and access the readings from around 20 meters. It is just like your mobile, enabling you to access up to 3-meter modules from a distance. Actually, you can access all the outcomes from your smartphone and share them with your colleagues right away.

Check Price
Another unique feature of the Fluke 3000 is that it records and saves up to 65K readings, making your job to be easy. Being a True RMS clamp meter, this is a versatile and ideal meter for both pros and beginners.
Benefits
It is versatile as it can read up to 65K different functions
It makes the job to be simple and quick with the DMM, thermometer, and clamp meter
The multimeter can be used as a standalone DMM or as a part of a whole measuring system
The HVAC DMM can take readings from even as far as 20 meters due to its wireless capability
Setbacks
This device doesn't function on the latest Windows 10 operating system
Tacklife CM02A autoranging multimeter
If you're looking for an hvac multimeter that can troubleshoot both automotive and household electrical issues, this is the best option.
Technical Features Of The Tacklife CM02A autoranging multimeter
Features

Tacklife CM02A

Display:
6,000 counts
Storage temperature:
-10 C ~ 50 C
DC volts:
Range: 6V / 60V / 600V
Resolution: 0.001V / 0.01V / 0.1V
Accuracy: ±(0.5% Reading + +3 digits)
AC volts:
Range: 6V / 60V / 600V
Resolution: 0.001V / 0.01V / 0.1V
Accuracy: ±(0.8% Reading + +5 digits)
Temperature
Range: -20~1000C (-4~1832F)
Resolution: 1C/2F
Accuracy: ±1% Reading + +2 digits
Price:
Check Price
The Tacklife CM02A is built for versatile use and can measure temperature and other things like frequency and resistance. The large display screen makes viewing of test outcomes to be easy. Professionals as well as DIY can use it.
Why buy this Tacklife CM02A hvac multimeter?
The multimeter is very easy to use. This is because of its true RMS is shown on the large backlit LCD screen.
The meter can be used for a number of household and automotive electrical issues.
It is very safe to use with insulated test probes and plastic gripping.
Operating the meter is very easy as it has an auto-shutoff feature that shuts down the meter when it is not in use for some time.
Fieldpiece HS26 Digital Multimeter
If you're on a tight budget but need a quality, durable, and reliable best HVAC multimeter, the Fieldpiece HS26 meter will be a good fit for you. The multimeter is sleek and compact in design for easy storage and use. You can keep it in your pocket or bag when not in use. The HVAC DMM is portable, tough, and has modular expandability, and In addition to the excellent design, it features many of the electrical parameters that technicians use on a daily basis, such as diode tests, capacitance, and micro-amps. It is one of the best multimeter for HVAC.
The original HS26 stick meter is safe to use as it has a manual ranging meter, and it is protected with a rugged ABS plastic housing.

Check Price
Benefits
It is very durable with the ABS plastic housing
It is very affordable
Compact and portable
Offers a wide range of electrical functions such as capacitance current, diode tests, and continuity.
It has an auto power-off feature to conserve battery life
It is safe to use as it has manual ranging
Setbacks
Some customers don't like that the clamp is a separate attachment.
Triplett 1101 Compact Digital Multimeter
The Triplet 1101 compact digital multimeter is another amazing low-cost device for measuring different HVAC tools. It can measure up to 19 ranges with temperature, current, voltage, diode test, and resistance included. The multimeter is very easy to use as it is compact, has a built-in stand, and a large display screen. In addition, the multimeter has an auto power-off feature that helps to save battery life. The rubberized boot offers both impacts and drops resistance that the gadget undergoes while in use.
The Triplett 1101 compact DMM is better suited for household and commercial use. use it on your HVAC tools, home theatre, and much more.

Check Price
Benefits
It is solidly built with the shock-absorbing case
It has a low battery indicator
The device has overload protection
It is versatile as it reads up to 19 different ranges
It has an auto power-off feature to save on battery life
3-year limited warranty
Setbacks
It is not durable
The multimeter is very slow in displaying results
What to look for in Hvac multimeters
There are various things to consider when picking a quality hvac meter, and they are as follows:
Construction –go for a hvac multimeter tool that is durably made to withstand tough conditions. While at work, a meter can easily slide from the hand and fall down. To avoid it from crashing, you should acquire a well-constructed meter that is shock resistance and sturdily built.
Ease of use – if you are new to multimeters, it is important that you choose a hvac meter that you can use with very little trouble. There are some hvac digital meters that are very difficult to use and need professionals to handle them. If you're just an electronics enthusiast, you can acquire a less complicated and simple to use the meter.
Accuracy – another feature to look at is whether the hvac multimeter you are planning to acquire is accurate or not. With so many meters on sale, ensure that you get one that provides accurate results.
Lightweight – having a meter that is lightweight is crucial. Since you will have to carry the tool with you almost everywhere in your work area, it should be lightweight and not a burden to you.
Features – different meters possess different features. When picking the best hvac multimeter, ensure that it offers features that will help you to accurately measure temperature, resistance, and frequency. Make sure that the hvac multimeter that you purchase has a temperature gauge tester and other useful features that make your work to be easy.
Brand – there are several brands on the market. Despite this, not all brands offer accurate results. Some offer very costly products, while others provide feature packed tools. Fluke, UEi, Fieldpiece, Craftsman, Mastech meters, and Klein are some of the best brands. Buying from these brands can almost guarantee great performance.
Check Price
Price – there are lowly priced HVAC digital meters and highly-priced HVAC digital meters. When picking a multimeter of your choice, do not heavily base on their initial cost. As long as the multimeter has the features that you're looking for and is from a notable brand, then you can acquire it. But there are multimeters with advanced features and perform more than just one task. These are costly but worth the price.
Warranty – Finally, considering if the multimeter tool offers a warranty or not is as well of great importance. A warranty guarantees the user of support in case the HVAC multimeter has an issue or if it is received with damage.
FAQ
Q. Which is the best multimeter for a new HVAC technician?
Ans. With lots of HVAC multimeters on offer, it is not easy choosing the best one for a newbie. But whatever multimeter that you select for a starter mechanic it has to be easy to use, accurate, well-labeled, easy to understand, and very affordable. A complicated device will be confusing, and the newbie will take a lot of time to understand it.
Q. I have an industrial-grade HVAC multimeter; can I use it for household testing?
Ans. Before you purchase one of the best HVAC Multimeter, you should know if it meets your needs. Different HVAC multimeters are created for different uses. There are those that can be utilized at home, and others are only suitable for industrial use. Also, some HVAC DMMs are created for both household and industrial use. Check instructions and only use them for their intended purpose
Q. Can I use any multimeter for HVAC testing?
Ans. This is very wrong! Using any multimeter for your HVAC testing can turn out to be dangerous. The best thing to do is to get an HVAC multimeter as it is created specifically to handle HVAC equipment. In addition, an HVAC DMM normally comes with specific features that make testing to be easy and accurate.
Bottom line
With various forms of HVAC multimeters on the market, you should identify one that has the features that suit your work, and it should be within your range. Also, the multimeter should come from a notable brand and be compact in design. The information we have provided above should be of great use to you and guide you on how to select your next exceptional HVAC digital multimeter.