Electricians heavily rely on their test devices on a daily basis. This is why they should have highly reliable and accurate multimeter devices. A quality multimeter device can help startup electricians, field service technicians, or DIY electronics enthusiasts carry out tests and get accurate and precise results. Considering features, quality, compactness, and price, the Fluke 115 multimeter is one of the most popular and best-selling multimeters from this brand. If you want the best Multimeters, then choose from the Fluke brand. The Fluke 115 True RMS Digital Multimeter can check AC Voltage, AC wave,  Current, Continuity, Frequency, Capacitance measurements, and Diode tests. In this Fluke 115 review article, we will discuss all the features of this model.
Related: Similar price – Fluke 117 multimeter review
The Fluke 87v and Fluke 179 is not budget multimeter, but fluke 115 is perfect who are looking for a standard multimeter at an affordable price. Also, it has outstanding features that make it perform exceptionally. These can be learned further below.
Technical specification of the Fluke 115 multimeter
Price:
Check Price
Key Features

Fluke 115 Multimeter

Display:
Digital: 6,000 counts, updates 4 per second
Operating Temperature:
-10°C to + 50°C
Storage Temperature :
-40°C to + 60°C
DC millivolts:
Range/resolution 600.0 mV / 0.1 mV
Accuracy ± ([% of reading] + [counts]): 0.5% + 2
DC volts:
Range/resolution 6.000 V / 0.001 V
60.00 V / 0.01 V
600.00 V / 0.1 V
Accuracy ± ([% of reading] + [counts]): 0.5% + 2
Ohms:
Range/resolution 600.0 Ω / 0.1 Ω
6.000 kΩ / 0.001 kΩ
60.00 kΩ / 0.01 kΩ
600.0 kΩ / 0.1 kΩ
6.000 MΩ / 0.001 MΩ
Accuracy 0.9% + 1
Range/resolution 40.00 MΩ / 0.01 MΩ
Accuracy 5% + 2
Continuity:
Correct Range/resolution 600 Ω / 1 Ω
Accuracy Beeper on < 20 Ω, off > 250 Ω detects opens or shorts of
500 μs or longer.
Diode test:
Range/resolution 2.00 V / 0.001 V
Accuracy 0.9% + 2
Capacitance:
Range/resolution 1000 nF / 1 nF
10.00 μF / 0.01 μF
100.0 μF / 0.1 μF
9999 μF / 1 μF
100 μF to 1000 μF
Accuracy 1.9% + 2
Range/resolution > 1000 μF
Accuracy 5% + 20%
Lo-Z capacitance:
Range 1 nF to 500 μF
Accuracy 10% + 2 typical
DC amps:
Range/resolution 6.000 A / 0.001 A
10.00 A / 0.01 A
Accuracy 1.0% + 3
20 A overload for 30-seconds max
AC amps True RMS
(45 Hz to 500Hz):
Range/resolution 6.000 A / 0.001 A
10.00 A / 0.01 A
Accuracy 1.5% + 3
20 A overload protection for 30-seconds max
Hz (V or A input)2:
Range/resolution 99.99 Hz / 0.01 Hz
999.9 Hz / 0.01 Hz
9.999 kHz / 0.001 kHz
50.00 kHz / 0.01 kHz
Accuracy 0.1% + 2
Battery type:
9 volt Alkaline, NEDA 1604A/ IEC 6LR61
Battery life:
400 hours typical, without backlight
Warranty:
Three years
Days are gone when you had to carry different tools for different electrical tests. Today, most of the digital multimeter devices created offer voltage, ohmmeter, and ammeter in just one single gadget. Check this Fluke 115 reviews(video):
This is great and has made the work of professional electricians to be easy. The only challenge comes in at the time of selecting the best. This is because there are various brands and models to pick from.

Fluke is an American brand but has some of its models constructed from China. This doesn't mean they aren't as quality as their counterpart. The Fluke brand emphasis more on quality, accuracy, and reliability when creating its products. That's most of the electricians prefer Fluke meters as they are the best. The multimeter Fluke 115 performs various functions and is ideal for all kinds of people. It performs almost all tests but not temperature.
Check Price
Fluke 115 Multimeter Review and Features Details
Large white LED backlight
CAT III 600 V safety rated
Min/Max/Average
Measures 20A
600v ac/dc
Record signal fluctuations
10A current ac/dc
10 000 capacitance
Resistance 40
True RMS reading
Three years limited warranty
Details of the Fluke 115 digital multimeter
Tests carried out by digital multimeters for home, or commercial use include current, frequency, capacitance, resistance, maximum voltage, temperature, and many others. Before you choose a multimeter that you like, it is important to know if it performs your role. If you're an HVAC technician, you should ensure that the device that you buy can measure temperature as not all of them have this feature. Find out more features information of this Fluke 115 true RMS multimeter.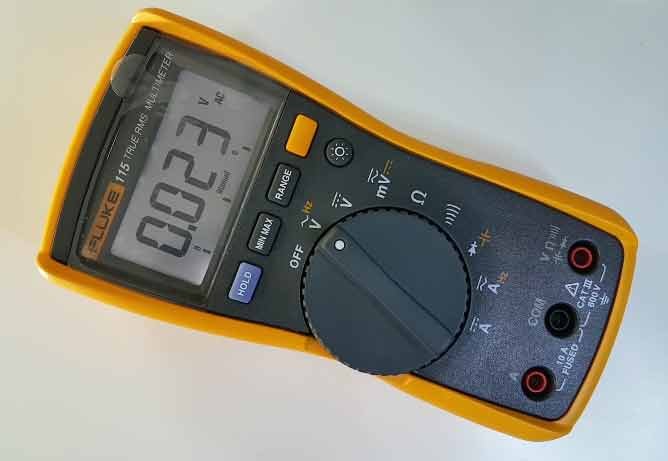 Sturdy construction
Every time you head out to buy any tool for your job, you should always go for the most sturdy and reliable product. This multimeter is made with some of the best materials, and it is also shock resistant. These meters are prone to falling or even crashing; thus, having a reliable meter in the field is an added advantage to the electrician. You don't want a scenario where you are forced to buy a new device after every month.
Large white LED backlight
One of the most distinctive features of any Fluke multimeter is its display. The brand has one of the best LCD displays on the market. Just like the other models, the fluke 115 multimeter has a high-resolution display that enables users to view the readings clearly. Also, the screen is large enough to be read from a distance. Another advantage is that it has a backlit display that can be utilized to read in dim or dark places without a problem. Just press the backlight button, and you're good to go.
Fluke 115 Comes With The True RMS feature
If you're a professional electrician, it is vital to search for this feature.

Check Price
There is no room for mistakes when handling electrical equipment and having an extremely accurate device is a bonus. The true RMS feature ensures that the measurements are very precise.
Auto shut off
This is another great feature that many people overlook. Unlike other multimeters, the automatic shut-off feature not only helps to prolong the battery life but as well saves you on the cash spent on buying new batteries too. This feature enables the multimeter to shut off if it's left idle for 15 minutes. But when the gadget is active, it will not interfere with it.
Auto hold
When you're working in the field, you might not have time to note down the figures displayed on the screen. The automatic hold feature will help you save the reading at that moment, which you can note down later. Before you proceed with another reading, you should ensure to write the previous reading as it will disappear when a new reading is recorded.

Check Price
Audible warnings
Beginners can at times find it difficult to operate a multimeter, and therefore, they can make mistakes from time to time. The audible warning is a great feature that alerts the user in case of a mistake made or when a particular activity is carried out. If you don't know how to interpret these warnings, you can always check them in the user manual.
Versatile Use
In the past, electricians used to carry several devices for performing various tests. But today, multimeter devices such as the fluke 115 model can perform different tasks. This includes testing voltage, frequency, capacitance, resistance, and current, among others. So, you don't need to carry different tools. This has greatly simplified things for electricians.
Safety features
Before you acquire a multimeter device, you should ensure that it is safe to use. This can be done by checking the safety features and ratings that it has. The Fluke digital multimeter has a safety rating of CAT III. So it has a ghost voltage detection system. In addition, it guards against common errors that could lead to wrong readings.
Compact and lightweight design
For individuals that are looking for an all-purpose multimeter, this is the best option. This multimeter not only has various features but is also lightweight and suitable for use for a wide range of testing.
Whether it is at home or for commercial purposes, it can suit all. Furthermore, it is small and compact for easy handling.
Easy to use features
Some multimeters are very complicated and only suitable for professionals. This fluke model comes with easy-to-use buttons and a large display with a backlit for simple reading of results. In addition, it has an ideal size that makes it simple to hold while working.
3-year limited warranty
At such a favorable price, the manufacturer stills offer a three-year limited warranty on this meter. In case you've any doubt about this product, there is nothing to worry about as the Fluke brand offers a strong warranty of three years. This shows that this is a top-quality digital multimeter tool and can be relied on to deliver accurate measurements.
Cons of fluke 115 meter
It is not in a position to measure milliamps and microamps
Fluke multimeter 115 doesn't show tenths of millivolts when reading a low or equivalent DC value
It doesn't measure temperature
Final Thoughts
The fluke 115 digital meter is a powerful multimeter from a famous brand. It is well made to defy the hard circumstances experienced by electricians. It is small and compact enough to fit in tight places, and using this gadget is very easy and straightforward. With features such as the True RMS, auto-ranging, auto hold, auto shut off, and audible warning, you can truly rely on this meter for accurate and safe readings.
We understand that choosing the best multimeter is not easy if you don't know what to expect from it. With the Fluke 115 review, we've made you informed about this quality multimeter, and you can now come up with a more informed decision.