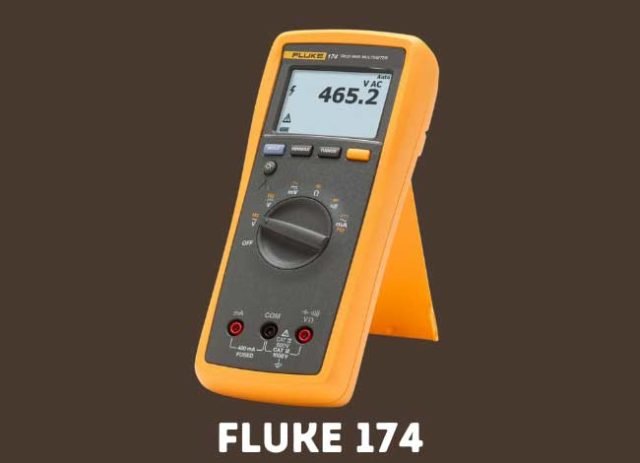 With so many multimeters on the market, choosing the best unit for your electrical troubleshooting is vital. Fluke is one of the top brands on the market, with exceptional digital multimeters on offer. Today, we will take a look at the Fluke 174 digital multimeter. Read this Fluke 174 review to the end to find out more about its features, functions, pros, and cons.
The Fluke 174 True-RMS multimeter is a durable and reliable tool that performs a wide range of functions. It can read up to 1000V AC/DC, making it great for both basic and professional use. It also offers accurate and fast results as it is a True-RMS HVAC multimeter device.
Technical Specification of the Fluke 174 True RMS Multimeter
Features
Fluke 174
Storage Temperature:
-30°C to +60°C
Operating Temperature:
-10°C to +50°C
Humidity (without condensation):
0% – 90% (0°C – 35°C)
0% – 70% (35°C – 50°C)
Overvoltage Category:
EN 61010–1 to 1000 V CAT III
EN 61010–1 to 600 V CAT IV
DC Volts:
Accuracy: ±(0.15% + 2)
Max. Resolution: 0.1 mV
Maximum: 1000 V
AC Volts:
Accuracy: ±(1.0% + 3)
Max. Resolution: 0.1 mV
Maximum: 1000 V
Current DC:
Accuracy: ±(1.0% + 3)
Max. Resolution: 0.01 mA
Maximum: 10 A
Current AC:
Accuracy: ±(1.5% + 3)
Max. Resolution: 0.01 mA
Maximum: 10 A
Resistance:
Accuracy: ±(0.9% + 1)
Max. Resolution: 0.1 Ω
Maximum: 50 MΩ
Capacitance:
Accuracy: ±(1.2% + 2)
Max. Resolution: 1 nF
Maximum: 10,000 µF
Frequency:
Accuracy: ±(0.1% + 1)
Max. Resolution: 0.01 Hz
Maximum: 100 kHz
Battery life:
Alkaline ~200 hours typical, without backlight
Price:
Check Today's Price
This multimeter is also safe to use as it has a CAT IV 600V/ CAT III 1000V safety rating. So, this is a device that you will use for many years to come. Due to its ease of use and reliability, the Fluke 174 multimeter allows the user to find issues very quickly and can be utilized to measure voltage, current, capacitance, frequency, and much more.
True RMS Fluke 174 Review 2023
Construction
Similar to many other Fluke multimeters, the Fluke 174 is also sturdily made with durable plastic. This means that it will stand the test of time and won't crash easily while in use. Also, this gadget is safety rated to CAT IV 600V/ CAT III 1000V. This means that it can withstand high AC/DC voltages of up to 1000V. This is great for such an affordable and compact unit.
Related article: Fluke 289 VS 287: Which multimeter is more advanced?
The dial selector is also easy to use, and you don't need any knowledge to adjust it. But if you're not sure about how to use the meter, a user manual is included to direct you. After use, you can safely keep the gadget in an ergonomic and robust carrying case with a protective holster.
Display
The screen that the Fluke 174 has is not only large but also very clear than the Fluke 902 FC Clamp meter. This makes the reading of results easy as it is also bright. With the backlit function, you will not have issues reading results in tight places without proper lighting. As a busy electrician or technician who works in tricky conditions, then you will find this device a good choice for your job.
Functions
This is the perfect tool for busy electricians. Instead of carrying different tools to perform a wide range of functions, the Fluke offers many functions in one device. Some of the tests that it performs include resistance, current, continuity, capacitance, diodes, and voltage. Also, the multimeter has the ability to measure both AC and DC currents.
Furthermore, this tool is very powerful as it runs on 3 AAA batteries. This is enough power to run the device for several hours, considering other units feature only 2 AA batteries.
True-RMS
The True-RMS feature makes the Fluke 174 multimeter to be ideal for professional use. This is because it can provide accurate results even on non-linear signals. One of the important steps in repairing or maintaining electrical systems is having a unit that offers precise and fast results. With the Fluke 174 automotive digital Multimeter, you can fully depend on it even for your HVAC systems.
Auto-hold and Auto-ranging
Other exceptional features of this device are the auto-hold and auto-ranging features. The automatic display hold mode enables the user to pause or put their on hold results and record them at a later stage. So, if you're busy or are working on different projects simultaneously, you can put this unit on hold and continue using it later without erasing the test results.
Also, the auto-ranging feature is vital as it allows you to select either the manual or auto-ranging function.
Intuitive user interface
Since electricians usually work in tight areas, you need to pick a meter that can fit easily and is not difficult to handle. The Fluke 174 DMM is well-designed for ease of use. All the buttons and ports on the device are properly designed for easy use. They are also well-labeled. Thus, it is difficult to confuse probes or even test leads.
Price
This is a versatile unit, but it is offered at a very great price. When compared to Fluke 87V multimeters, this digital device is slightly affordable as it costs less but features more functions and attributes. It is also compact and sturdy with a storage case.
Warranty
If you decide to invest in a quality multimeter, it is only wise that you also acquire a device with a warranty. Unfortunately, some brands do not offer a warranty, and this can turn out to be challenging. Fluke offers warranties on its products, and the Fluke 174 comes with a lifetime warranty.

Check Today's Price
What we liked about the Fluke 174 multimeter
Durably made for longevity
The backlit display allows users to take tests in all conditions
It has a safety rating of up to 1000V CAT III
Performs several functions
Simple to use
This great meter works quite fast and comes in handy too
Delivers fast and accurate results
Large display for offering clear results
Limited lifetime warranty
What we didn't like about the Fluke 174 true RMS multimeter
Some users will find it a bit costly
A number of users have complained that the screen is big, but the display area is very small.
Who is this unit best suited for?
There is no doubt that the Fluke 174 multimeter is a sturdy and reliable device that will serve the user for several years to come. Also, it comes with lots of amazing features that are great for starters as well as beginners. Overall, this is a nice tool for newbies and electrician enthusiasts. This is because it lacks some vital features that are needed in high-end units. But it can still be used by professional technicians and HVAC electricians as it is a True-RMS multimeter.
Related article: Check the differences between Fluke and Extech multimeters
Summary
The Fluke 174 digital multimeter is simple to use the device. It is also sold at a favorable price but offers some amazing features. This is a durable and reliable unit that will serve users even in the toughest of conditions. The sturdy plastic construction and durable carrying case ensures that this device survives droppings and is kept well. With an IP54 rating, this is a really durable unit that will troubleshoot a wide range of electrical problems.
FAQ
Question: What should I consider when picking a Fluke Multimeter?
Answer: Choosing a multimeter for the first time is not easy. This is because you have to consider several factors in order to land the best device for your job. Some multimeters, like Fluke 101 portable multimeters, are great for starters, while Fluke 289 multimeters are ideal for professionals. Some of the things to consider include what the multimeter does, its accuracy, construction, display, ease of use, safety, connections, and the overall value of the meter.
Ensure to pick a robust unit that is also very reliable in performance. Most of the latest and most advanced units come with a wireless connection through Bluetooth or Wi-Fi.
Question: If I test a circuit with more than 400ma, will it blow a fuse?
Answer: Yes, it will. When picking a multimeter, make sure that you check its maximum capacity for voltage, current, capacitance, resistance, temperature, and frequency. Different digital multimeters have different capacities. In this case, testing a circuit that is more than 400ma will cause the fuse to blow. So, you should ensure that you test circuits that are less than 400ma.
Question: Where to buy Fluke 174 RMS?
Answer: Some sources say the product has been discontinued. But I still found them on Amazon, Walmart, and other e-commerce sites. This is a special edition made only for the American market. So if you can't get it in a local store, go online shopping.
Question: How is the test lead?
Answer: The device offers a basic set of test leads.
Question: Does Fluke 174 have any clips to mount on the wall?
Answer: I didn't find anything like that.
Question: Why is my Fluke 174 multimeter fuse blown out?
Answer: If the circuit you are testing is more than 400ma, the fuse may blow out.
Question: How to measure higher voltage with the Fluke 174 meter?
Answer: You need to buy the i400 amperage clamp accessory separately.
Question: What is the maximum amperage measurement range of the Fluke 174 multimeter?
Answer: 400mA
Question: Do you need to open the case to replace the battery and fuse?
Answer: No, you can replace it without disassembling the case.
Still, have a question after reading this Fluke 174 Review article? Comment below.