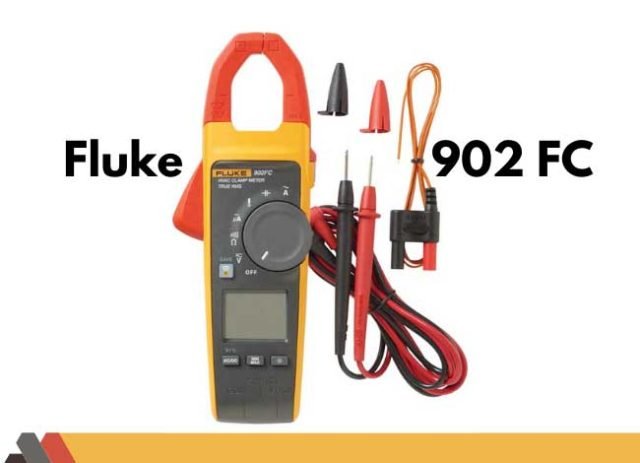 Since its inception in 1948, Fluke has been offering quality and durable multimeters for beginners, electrical enthusiasts, and professionals. Fluke is also one of the leaders in the production of compact and professional electronic test tools. So, whether you're an engineer, technician, metrologist, or even electrician, you will find a multimeter from Fluke that meets your needs and demands. In this Fluke 902 FC review, our focus will be on the Fluke 902 FC HVAC True-RMS Clamp Meter.
This is an HVAC and True-RMS multimeter with a wireless function. The device also performs a wide range of functions such as measuring DC, AC, temperature, resistance, and much more.
Technical Specifications Of The Fluke 902 FC HVAC True-RMS Clamp Meter
Features

Fluke 902 FC

A ac (via Jaw):
Resolution: 0.1 A
Accuracy: 2.0% ±5 digit (45-65 Hz)
2.5% ±5 digit (65-400 Hz)
Range: 600.0 A
Crest Factor (50Hz or 60Hz): 2.5 MIN@220 A
> 1.4 MIN@600 A
Add 2% for CF>400 A
DC volts:
Resolution: 0.1 V
Accuracy: 1.5% ±5 digits
Range: 600.0 V
AC volts:
Resolution: 0.1 V
Accuracy: 1.5% ±5 digits
Range: 600.0 V
Ohms:
Resolution: 0.1/1/10
Accuracy: 1% ±5 digits
Range: 600/6000/60.00 kΩ
Capacitance:
Resolution: 0.1/1 µF
Accuracy: 1% ±4 digits
Range: 100.0/1000 µF
µA:
Resolution: 0.1 µA
Accuracy: 1% ±5 digits
Range: 200 µA
Contact Temperature:
Resolution: 0.1 C/F
Accuracy: 1% ±8 digits
Range: -40 to 400 °C (-40 °F to 752 °F)
Continuity beeper:
Beeper volume: 75 dBA nom. 15 cm. from case front
On threshold: <=30 Ω
Battery type:
2 AA alkaline batteries, NEDA 15A, IEC LR6 (included)
Temperature:
Operating: -10 °C to +50 °C (14 °F to +122 °F)
Storage: -40 °C to +60 °C (-40 °F to +140 °F)
Safety:
IEC 61010-1, Pollution Degree 2
IEC 61010-2-032: CAT III 1000 V / CAT IV 600 V
IEC 61010-2-033: CAT III 1000 V / CAT IV 600 V
IP Rating:
IEC 60529: IP30, non-operating
Reading Memory:
Yes
Radio Frequency Certification:
FCC ID:T68-FBLE IC:6627A-FBLE
Not only is this device compact and versatile, but it is also easy to use and store. It has a display screen for showing results, and it delivers precise measurements. With the CAT III, 600/CAT IV, 3000 V rating, this is a safe and reliable unit for taking measurements on your HVAC appliance. Read this review to the end, and it will help you make an informed decision.
Fluke 902 FC Review 2023
Construction
One of the outstanding features of all Fluke multimeters is that they are robustly constructed and can last long. Nevertheless, Fluke multimeters made in the USA are more durable than the units that are made in China.
Related article: Fluke 115 VS 117: Which Multimeter is budget-friendly?
This particular unit is sturdily made and will defy the tough conditions that electricians face at work. In addition, the jaw helps the user to attach the device so that they can work without holding the unit.
Powerful and fast
This digital multimeter runs on 2 AA alkaline batteries. This means that it will run for several hours before having to change the batteries. Also, you won't have to worry when you have spare batteries as you can always continue with your tests.
The Fluke 902 FC is also speedy and accurate in performance. Its resistance is up to 60 kΩ. Therefore, you won't record wrong tests, and this will help you know how your HVAC device is performing when you want to carry out repairs or maintenance work.
Display
The display screen is 5″, which is slightly wider than Fluke 325 Clamp meters. The display on this unit is not very important as you can still use the app on your phone to get the results from the test being undertaken. But don't overlook it as sometimes the Bluetooth wireless connection may not be very stable to submit results without interference. The display is backlit and very easy to use. So, you can even carry out tests in poorly lit areas.
To use the wireless connection on this gadget, you will have to download the Fluke app and link it with your mobile phone. Afterward, you can immediately trend and monitor measurements live on your phone for better troubleshooting outcomes.
Functions
Fluke 902 FC multimeter is a very versatile unit as it performs a wide range of functions such as DC measurements, AC measurements, capacitance measurements, temperature measurements, and much more. With such features, you won't have to carry multiple tools as this single device can perform a wide range of functions. But if you want a more advanced system, you have to choose Fluke 289 professional multimeter.
Besides, the unit is rated as CAT III 600V/CAT IV 300V. Thus, it can perform important measurements of HVAC appliances.
Wireless connection
The device features a wireless Fluke Connect system. The wireless connection is not only convenient to use but as well as safe. All you need to do is connect the meter to your mobile phone via Bluetooth, then clamp your DMM around a conductor and walk up to 30 meters from the measurement point. This means you can be in two places at once, and you will reduce the dangers of arc flash in case anything goes wrong.
Intuitive user-interface
This is one of the most user-friendly units on the market. It has an ergonomic and compact design that is easy to handle. It also fits in tight places; hence can be used to test different electronic components. You don't need to hold the device in your hands while performing different tests, as the Bluetooth connection allows for a wireless operation to take place. It is recommended that the user wear protective equipment when using the device.
Price
When compared to other meters with similar features and functions, this unit is favorably priced. However, if you're not an HVAC electrician and don't need some features that it offers, buying this unit will prove to be somehow costly than the Fluke 117 true RMS multimeter.
Ensure that this unit has the features that you want and not just buying it for the sake. For example, if you're looking for a more basic multimeter, then this unit may not be for you.
Warranty
Fluke offers a warranty on all of its multimeters, and the Fluke 902 is no exception. This true RMS HVAC clamp multimeter comes with a 3-year warranty, which is enough time to find out if the DMM is working as recommended or not. Also, in case of a defect in material or workmanship, the user can still return the device for repair or replacement.
What we liked most about the Fluke 902 HVAC multimeter
This wireless HVAC is quick and accurate in performance
Compact and durable construction
Wireless connection for convenient use
Easy to use and extended resistance range to measure
Compatible with most of the Fluke instruments
Features a universal hanger for a hands-free operation
True-RMS HVAC clamp meter device
Safe to use as you can take measurements from a distance
What we didn't like about the HVAC multimeter
Who is best suited for this HVAC device?
Despite being sold at an amazing price, the Fluke 902 HVAC multimeter is not a good unit for starters or DIYers. This is because it is made specifically for HVAC electricians or individuals who want to test HVAC. So, this multimeter should be utilized by professional electricians or HVAC electricians who need an accurate and faster tool that can be utilized for commercial purposes.
Related article: What are the differences between Fluke 287 and Fluke 289 multimeters?
Conclusion
The Fluke 902 FC True-RMS multimeter is a high-end DMM that is suitable for HVAC electricians. It performs a wide range of functions such as testing AC/DC voltage, AC, light sensors, resistance, contact temperature, and capacitance. The device is also compact and lightweight for easy use and storage. With the wireless connection, this is one of the safest multimeters that you will come across. On top of that, the manufacturer offers a 3-year warranty thus you can be assured that this is a worthwhile investment. I hope you have gotten a clear idea after reading this Fluke 902 FC review.
FAQs
Question: What is the difference in the Min/Max and Peak modes on the multimeter?
Answer: This is the highest and lowest reading that the multimeter measured from the time the Min/Max record mode was initiated. Normally, they want the measured signal's minimum or maximum to be between 200 and 350 milliseconds long or longer to get a precise reading. They also work from any mode like True RMS volts AC volts DC, current, and resistance functions. The peak mode measures the positive and negative peak voltage of a signal. When it comes to the 120-volt ac line, the peaks will read +169 volts and -169 volts. Usually, they will work for peaks that are 250 microseconds or longer.
Question: Can I use this multimeter to measure temperature sensors for heat pumps?
Answer: Yes, you can. This Fluke 902 FC true RMS HVAC meter reads up to 60 000 ohms. As a result, it can be used to measure temperature sensors for heat pumps. Devices that reach up to 1 million ohms can be used to check compressor windings and many other advanced units.
Still, have a question after reading this Fluke 902 FC review? Comment below.