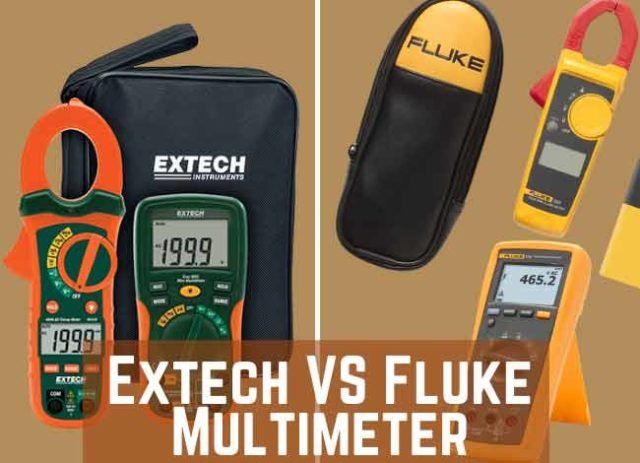 Are you a DIY enthusiast, electronic lover, mechanic, electrician, or engineer? Are you looking for a professional digital multimeter or a cheap DMM for simple home use?
Different multimeter brands stand for different uses and quality. There are brands that are famous because of their quality, while there are those which are loved because of their outstanding performance. As we take a look at the Extech and Fluke multimeter brands, it is important that you select a DMM that will meet your needs.
Extech VS Fluke
The Fluke and Extech multimeter brands are some of the best on the market. Today, we are going to look at some of their similarities and differences. These are as follows:
Reliability
Extech is a wonderful brand with a great history. Since the Extech Company was formed 45 years ago, it has continued to come up with new and better tools. Extech is one of the most reliable multimeter brands on the market. Also, Fluke is well-known in the market and has years of experience. It dates back to 1948 when the firm was created. Fluke has a great reputation in the market and is one of the best-selling brands. They have different models, including Fluke 902 FC, Fluke 325 Clamp Meter, Fluke 289 true RMS multimeter, etc.
Construction
when it comes to durability, both Extech and Fluke are created with heavy-duty plastic. This makes them defy tough conditions and bad weather. But if you work in a very harsh environment, then I would recommend Fluke as it has proven to perform excellently in such very tough conditions.
Purpose
Do you want a multimeter for industrial use or domestic day-to-day use? Fluke is known to be versatile and is well-suited for use by professionals. On the other hand, Extech digital multimeters are simple and don't have advanced features like Fluke 179 industrial electronics digital ac and dc multimeters. These are great for DIYers, electronic lovers, newbie mechanics, and startup electricians.
Ease of use
Both Fluke and Extech brands have easy-to-use digital multimeters. They come with features like a display, labeled buttons, a compact design, and a user manual for helping you out. You don't need to be an expert to use Extech multimeters. But with Fluke, there are some high-end models that come with additional features and need professional help to correctly use them. Auto-ranging response time is quicker in Fluke multimeter. But for high AC voltage or DC voltage range, you should use INNOVA 3320 auto Ranging Digital Multimeter.
Related article: Fluke 115 VS 117: Which should you buy?
Safety
This heavily depends on the type of multimeter that you are using. A good number of multimeters from both ends meet the CAT III safety ratings. For example, Fluke multimeters are very safe to use as long as they are used for their intended purpose. They are also very accurate. But you can't say the same on Extech multimeters as they offer some low-quality multimeters as well.
Cost
Fluke brand is known to have very costly multimeters, but as well they are of great quality. Extech multimeters are fairly priced and okay for use. They don't provide the best accuracy but can be relied on to perform various tests such as voltage, current, and resistance. But if you want the best multimeter at a low price, you can use Fluke 101 portable multimeter.
Warranty
Extech provides a one-year warranty to its customers, while Fluke provides a lifetime limited warranty. This means that DMMs from higher-end Fluke models are longer-lasting and more reliable than Extech. So, if you want to make a secure investment, it's better to break the bank and acquire a tool that you will use for many years to come.
Related article: Check the feature comparison between Fluke 87 V and Fluke 179
Who is Winner? Fluke or Extech?

If you don't want to spend a lot but still want an accurate and reliable digital multimeter, choose from Extech which has easy to read display. But if you only want the best regardless of the price, Fluke is the best option. Extech has several reliable multimeters on the market, which can be found at fair prices. At the same time, Fluke digital multimeters are built for industrial use and professionals.
Still, have questions after reading this Extech VS Fluke article? Comment below.